Stud Males
 Toffee Woods Kevino
Registered White Huacaya Male
DOB: 16/05/2015
This promising young solid white Huacaya male has an appealing fineness and style to his fleece that comes highly commended by show judges. Maintaining an even bright whiteness throughout his saddle and down his legs and demonstrating a beautiful lustre to his soft handling fleece, this temperate natured stud sire with excellent genetics will be one to consider in your herd's future breeding direction.
Fleece Stats:
1st Fleece 2015                     14.9 mic / 3.8 SD / 100% CF
2nd Fleece 2016                    14.8 mic / 2.9 S.D / 100% CF
3rd Fleece 2017                     15.8 mic / 3.2 S.D / 100% CF
Show Results:
2016 Whiteman Park – Second Place Junior Male Huacaya White

Taylor's The Saint
Registered Black Huacaya Male
DOB: 28/3/2007
Taylors The Saint is a welcome addition to Toffee Woods Alpacas.
This magnificent animal has a powerful frame and striking appearance. With a dense, rich fleece in solid black; The Saint is responsible for siring many ribbon winners in recent years.
The Saint is an excellent choice for your coloured breeding females and herd improvement.
Show Results:
2015 Colourbration – First place Mature Male Huacaya Black
2015 Gidgegannup Show – First place Mature Male Huacaya Black
2010 Perth Royal Show – First place Senior Male Huacaya Black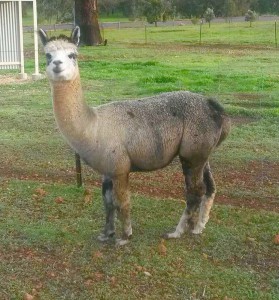 Peach Tree Farm Pedro
Registered Dark Grey Huacaya Male
DOB 10/10/2010
Pedro is a noteworthy dark grey male with an eye catching appearance and a commanding presence.
Displaying a lovely evenness in colour and a soft handling fleece with sought after grey genetics.
Fleece Stats to follow.
Contact 0438 925 624 or email melinda@toffeewoodsalpacas.com.au for information on pricing and availability.